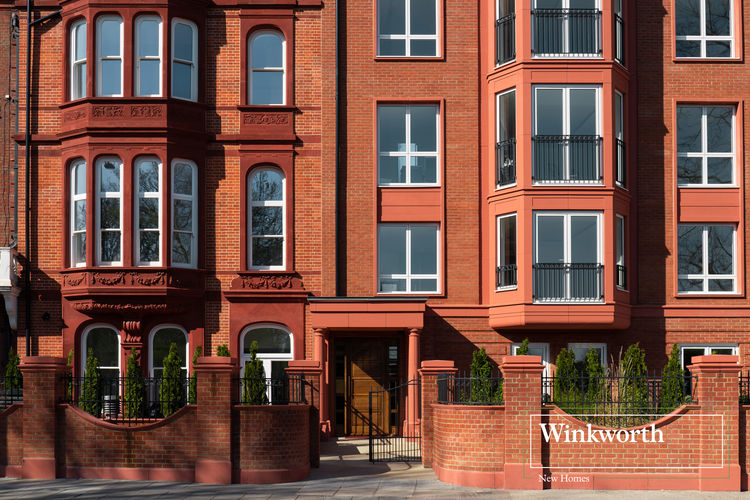 Featured Development
154 Bayswater Road, a boutique haute couture collection of apartments by one of the world's leading designers. Nestled at the heart of London and overlooking the green expanses of Hyde Park.
New Homes - As trusted agents, we provide access to the most extensive range of new homes, from boutique developers to the country's largest housebuilders. With Winkworth, you can be confident that you're working with a team with your best interests in mind. We're committed to providing you with the highest standard of service and helping you make an intelligent investment in your future.
Whatever your requirements and ambitions, we have properties to suit all budgets across London and the UK. Explore our collection of new developments, from elegant apartments in the city to apartments overlooking green spaces in the suburbs with convenient transport links.
Whether you are considering a family home, a buy-to-let investment, accommodation for your children, or a pied-à-terre, we have a variety of new homes within developments that may suit your lifestyle.
Find out more
Explore our listings today and discover the perfect new home for you!
We have 100 regional residential development sales teams comprising over 600 experts specialising in new home sales and consultancy. We can draw on the expertise of our local office owners, who have an intimate knowledge of the area and the market conditions, demographics, and local politics. Unlike many estate agency networks, our offices are owned and operated by local people committed to their client's interests and striving to ensure the best possible result. An unbeatable service is produced by combining their local knowledge and expertise with the technical knowledge of the New Homes team.
We can offer properties that are completed and ready to move into or off plan and allow you the flexibility to move when you are ready.
The buying process for new homes is broadly the same as for any other property, but the transaction is more structured and streamlined. The main differences are that an immediate deposit is required to reserve the property (unlike with older properties, on which a deposit is paid when contracts are exchanged) and the timescale of the transaction is prescribed, with little flexibility.

New homes and apartments offer many benefits for investors and owner-occupiers alike. Not only do you benefit from a chain-free purchase but new build properties are often more energy efficient, built to modern standards and require a low level of maintenance once you move in. They also provide maximum comfort and security with minimum upkeep, since all developments have to comply with stringent building standards and are offered with the benefit of structural defects insurance and warranties.
1. Reservation fee paid: Within 24 hours of reserving you are required to pay your reservation fee.
2. Memorandum of sale received: Winkworth will prepare a memorandum of sale which you should receive within 48 hours of reservation.
3. Instruct your solicitor:Formally instruct your solicitor to act on your behalf and complete their relevant paperwork including source of funds information, ID for anti-money laundering checks. Your solicitor will make diligent enquiries with the seller's solicitor and the local authority to find out as much as possible about the property and any factors that might adversely affect it.
4. Instruct finance provider (where applicable)To arrange your mortgage valuation. Your survey report will be sent to your finance provider and subsequently your mortgage offer will be issued. Your solicitor will receive your mortgage offer and will send the mortgage deed and any other documentation for you to sign and return ready for exchange of contracts.
5. Vendor's solicitor send legal pack to your solicitor:The seller's solicitor will send your solicitor a draft sale contract together with a copy of the title and lease (where applicable), and other relevant information.
6. Draft contract finalised: Once all the search results and replies to enquiries are obtained by your solicitor. Clear search results are required not only for you but also by any lender. The report will set out all the salient details of the property and summarise the results of your solicitor's investigations.
7. Exchange of contracts and deposit paid: Once this has been dealt with to both parties' satisfaction, and you are satisfied with the detail in the report, you are ready to exchange contracts.
8. Completion: On the date of completion you pay the balance of the purchase price, the keys to the property are handed over and you move in.
Due to the surging property interests of Chinese businesses and investors in the UK, we have created a specialised team based in London to aid international high-net-worth individuals with their relocation and investment opportunities.
At our London China Team, we strive to become your trusted property partner. We cover all UK residential developments, and our team of experts delivers a personalised end-to-end service tailored to your unique needs.
Please explore our New Homes portfolio below
Regardless of the scope or size of your project, we provide a customised service to developers that begins with a free market appraisal. Our consultancy services include:
Market Analysis and scheme context
Pricing and supporting evidence
Design and delivery input – what do you need to design, for whom, and what is the most profitable way to deliver it
Funding and capital markets advice and access
Who are you going to be selling to, and how should you communicate with those markets
Navigating complex compliance and accreditation procedures
Branding, Sales and Marketing